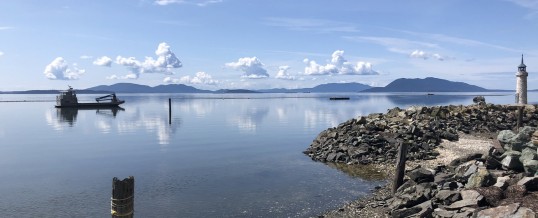 August 13, 2019
Growers working with Taylor Shellfish captured a female European green crab while working in oyster beds last week. This crab is the fourth that has been found in Samish Bay this year, the first three detections occurring in early January. At about 75mm (~3″) across the back shell, this crab was relatively large for a female, but had a thin, pliable shell, indicating she had recently molted. Growers noticed the crab while processing an oyster pallet, removed it from the tide flat and reported the capture to Washington Department of Fish and Wildlife. Crab Team researchers retrieved the crab for biological sampling, including taking tissue for DNA analysis that will contribute to our understanding of how green crab might be moving into and around the Salish Sea.
The capture of this green crab continues a pattern from this and recent years of small numbers of individuals found scattered across the northern Salish Sea shorelines of Washington:
Green crab were first detected in Skagit County in 2016, when an education staff member of the Padilla Bay National Estuarine Research Reserve found a green crab near Bayview State Park while working with a school group. Subsequently, the reserve collaborated with Crab Team on extensive response trapping and ongoing monitoring. Since 2017, the reserve has conducted early-detection monitoring at four sites in Padilla Bay, and launched an additional site in Samish Bay this year, but no detections have been made at these sites since early 2017.
Four European green crabs have been found in Whatcom County for the first time this year, including a predated crab at Squalicum Harbor, and three captured by WDFW during assessment trapping in Chuckanut Bay. A repeat of the Chuckanut trapping effort in recent weeks thankfully failed to turn up further evidence green crabs. Crab Team will continue monitoring the site as part of the early detection program.
Five green crabs (and one molted shell) have been found on San Juan Island, at a Crab Team monitoring site since 2016, four of them in 2018. None have been detected by volunteers conducting Crab Team monitoring since the season started in April. Crab Team staff and WDFW technicians will return to Westcott Bay in late August to conduct another expanded assessment trapping effort.
This pattern of detections–few in number, but spread out over space and time–is consistent with what we have been hearing from Canadian colleagues with Fisheries and Oceans, who have launched additional early detection efforts along inland shorelines of British Columbia similar to Crab Team's. (So far this season, the only other green crabs detected along Washington's inland shorelines have been on the northern Olympic Peninsula: two individuals in Sequim Bay, and 50 crabs captured by US Fish and Wildlife Service removal trapping at Dungeness Spit).
As we learn more about how green crab are moving into and around inland waters, we can hone management efforts to target high risk times and places, but, we will also need to keep up a broad search. We hope that these findings signal that green crab arrivals are infrequent, with a small number of larvae getting washed in irregularly. That situation would afford us the best chance to prevent or reduce the potential economic and ecological damage green crab could cause if they were to become established. However, we also need to be on the lookout for larger, as yet undetected, populations closer to home, which could be allowing green crab to be come more securely established in this region.
Ongoing surveillance by multiple groups, including citizen science volunteers, managers, scientists, and shellfish growers is at the core of a successful effort to manage European green crab in this region. For information on how to identify and report invasive European green crab, check out our blog post.
-Emily Grason
Header Photo Credit: Sean McDonald