July 29, 2020
About a year ago, we began on a path toward strengthening the organizational framework of Washington Sea Grant (WSG). Notably, this included a plan to expand our leadership team with two new assistant director positions that would fill central roles in supervising and mentoring the program's outreach staff. These assistant directors would also work with me and the other leadership team members on strategic and operational planning, addressing emerging needs and areas for improvement, and encouraging program innovation. I am very excited to announce that we have finally completed our selection process for these assistant director positions and that we have successfully hired two very talented individuals: Sean MacDuff and Wei Ying Wong.
We had an incredibly high caliber of candidates in the application pool, and it was extremely difficult to narrow the selection to these two individuals. Many people assisted in this process, from coordinating schedules to sifting through resumes and sitting in on interviews. I am also very proud that this selection process incorporated and built upon the diversity, equity and inclusion (DEI) principles and values that we are striving to uphold.
The hiring of these two positions represents a huge milestone for WSG. We are delighted that Sean and Wei Ying are joining our team.
Learn more about them:
Sean Macduff – Assistant Director for Community Engagement
He/Him/His
Sean has been working as a life scientist with the EPA in Seattle. He has a Ph.D. in zoology (marine biology) from the University of Hawaii at Manoa. He was raised in the Mariana Islands where resource sustainability and environmental stewardship were a constant life lesson. He has dedicated his professional life to understanding the linkages between land and sea, the importance of human interactions with the environment, and how western and traditional knowledge systems could be used to conserve, protect, and restore terrestrial and aquatic resources. He enjoys being "immersed" in the environment and taking "science-ey" pictures. He likes cooking outside, strumming a guitar or ukulele, and playing in the waves (not at the same time!). He has 3 boys of varying ages and is married to a kindergarten teacher. He enjoys visiting new places and experiencing other cultures.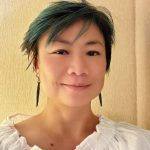 Wei Ying Wong – Assistant Director for Science and Technical Assistance
She/Her/Hers
Wei Ying was most recently vice president of learning & innovation at the Woodland Park Zoo. She has a Ph.D. in environmental studies from Brown University. Her training is in methodology (understanding and bridging disconnects between different stakeholders around conservation issues) and her passion is the ocean. She is committed to supporting inclusive discourses and socially just environmental policies. While opportunity brought her into the zoo and terrestrial world, it has been her hope to work again on ocean-related issues. Wei Ying lives in Seattle.
Welcome aboard, Sean and Wei Ying!

Russell Callender, WSG Director