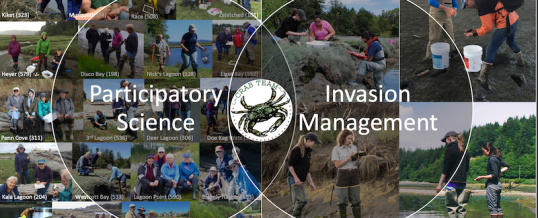 August 31, 2021
It's been just five years since the first phone call came in with the news we all feared. I was returning from a morning dog walk and got the message from Crab Team volunteer Craig Staude: a European green crab had been captured at Westcott Bay, on San Juan Island. Though we had been looking very hard for these crabs, no one ever wanted to find one.
This was the first confirmed detection of this globally damaging invasive species along inland Washington shorelines, and it changed the game for not only Crab Team, but for the Salish Sea. Immediately we notified Washington Department of Fish and Wildlife and then…had to decide what to do next. The rapid response that followed created the model for much of the trapping that has been conducted since.
Following this first crab, a total of only five additional green crabs have been captured in the Westcott Bay marsh. This is the result of nearly 1,000 traps of searching. Though traps have been set all over the marsh, and at other suitable sites nearby, green crabs have only ever been captured within the site originally selected as the designated monitoring channel. Westcott Bay is certainly an early detection success, and thus far we have been vigilant and lucky that green crabs have not established a population there. It is similar to a few other sites where green crabs have been captured at very low numbers and have not persisted or increased in number, including Lagoon Point (Whidbey Island), Kala Point (Port Townsend). But there has also been a growing list of sites and locations where more detections, or more consistent detections, have managers concerned.
There is much to feel good about. In the last five years, efforts to manage green crabs have grown far beyond the Crab Team network – dozens of management partners and hundreds of volunteers are actively working together to tackle green crabs. Several sites sites have shown promising signs that trapping can effectively reduce local populations – Dungeness Spit saw only three captures in 2020, and in Drayton Harbor this year, capture rates are far lower than last year. Research enabled by this work is guiding us toward more effective management. The crab specimen from Westcott Bay, elegantly numbered WASS.2016.001, along with all of the others captured since then, offers rich opportunities to learn about how we can best protect shorelines.
Nevertheless, long term control of green crabs in the Salish Sea will require not only the intensive and sustained removal efforts that these sites have undertaken, but also some luck and help from nature. Meanwhile, in Washington's coastal estuaries, green crab numbers are higher than ever before, high enough that a different set of management goals might be warranted. Even though both regions are within Washington, we've learned about how oceanography may mean the invasion looks different on the coast versus inland.
At Westcott Bay, Crab Team monthly monitoring continues, now under the leadership of site captain Mark Donohue, who thoughtfully reassures me each month with a note on his data submission: "No CAMA" (Crab Team-speak for "no European green crab") – no longer something we can take for granted. Mark and the 250 other monitors who continue to survey with Crab Team form a critical part of the vanguard for Salish Sea shorelines, proactively and consistently trapping for green crab and keeping a watchful eye on the habitats and organisms that green crab could impact if they do become as abundant as they have elsewhere in the world.
–Emily Grason
If we've got you feeling curious or nostalgic, take a deeper dive into Crab Team history, get the play-by-play and ride the emotional roller coaster of captures, by checking out the Crab Team blog archives.